Why Use an SEO Audit Tool?
Is your website OK? If you're like most people, it probably isn't. Most websites don't get enough traffic, and even those that do often don't get the right kind of traffic. So how can you tell if your website is OK? Or, even better: how can you improve it so that it's more likely to get more customers?
READ: WHAT IS SEO / SEARCH ENGINE OPTIMIZATION?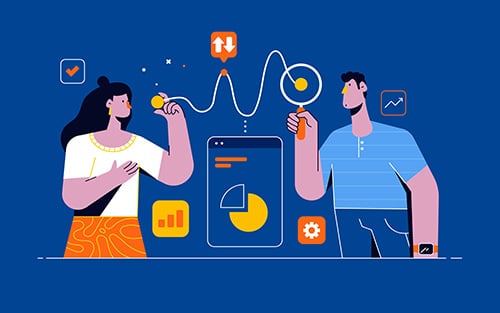 Well, there are plenty of ways to measure this. You could look at the number of visitors who come to your website in a month or year and compare that number to how many customers you've gained as a result of those visits. You could also measure how many visitors leave after visiting just one page—that would tell you something about whether they're interested in what your site has to offer or not.
But there's another way: you can use an SEO audit tool like Be the Square Digital Marketing's, which analyzes 32 different SEO points on your site and checks keyword rankings and your competitors' positions for those keywords (plus many more!). It will email you an actionable report that will allow you to address some of the technical aspects of SEO—and improve them—so that more people will find your site through search engines and buy from you!
You have a business website, right? How do you know if it's really working as hard as it could be? Your website's SEO health needs a checkup once and a while just like you would regularly gauge your own health.  
You might be aware of your rankings, search traffic, and even conversions. But what is the health of your website and is it affecting your business?
You're probably not sure, but it's time to find out. The best way to do this is through an in-depth audit of your website's health. This will help you identify and fix the issues that are holding back your site from performing at its full potential.
You can find out by using our SEO audit tool. Other tools such as Google PageSpeed Insights analyze your website speed and structure, but fail to mention the SEO impacts of these elements.
This SEO Audit tool will analyze over 32 SEO points on your website. It will check the quality of your content, its readability, how well it's optimized for search engines and much more. It will also provide you with an in-depth report that includes tips to improve your website's SEO health.
First, our free SEO audit tool checks keyword rankings, organic click-through rate, and backlinks.
Then it will compare your website to three competitors of your choice.
The tool will report on page speed and page structure. Then it will provide you with a list of actionable tips to improve your website. It's important to use this tool so that you can find out what your SEO health is like.
It analyzes internal linking and social media exposure.
READ: How Your Website Structure Could Be Affecting Your SEO!
Finally the tool reports on mobile friendliness, security, analytics setup and overall health score.
After this analysis you get a report emailed to you that shows you exactly what you need to work on to improve your SEO. The tool is easy to use and the report it generates is comprehensive.
Whether or not you have good SEO score can have a significant impact on your business. Finding out where you stand so that you can address technical issues is essential to making sure that customers are able to find you online.
We help businesses get found online! Our SEO packages are designed to get your website ranking in the quickest, most ethical way possible!